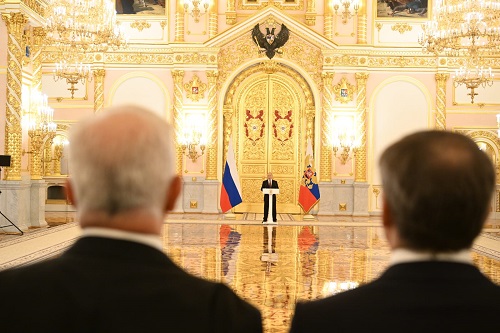 Ambassador Momčilo Babić presented Letters of credence to the President of Russia, Vladimir Putin, at a ceremony, held today, on September 20th, at the Kremlin, together with 23 other ambassadors of other countries.
In his address, President Putin pointed out that Russia and Serbia are linked by relations of strategic partnership based on the tradition of friendship, cultural, spiritual and historical closeness of our brotherly nations.
He also stated that they regularly discuss with President Vučić, in personal meetings and in telephone conversations, the key issues of further development of cooperation. He pointed out that they appreciate the aspiration of Serbian friends to implement a balanced independent course on the international scene and that joint work on deepening political dialogue, expanding mutual cooperation in the economy, trade, scientific-technical and cultural-humanistic spheres continues.
President Putin particularly emphasized that within the framework of international law, starting primarily from UN Security Council resolution 1244, and in the future, they will continue to provide Serbian friends with comprehensive support in defending the legitimate rights and interests of Serbia, protecting its state sovereignty and territorial integrity.