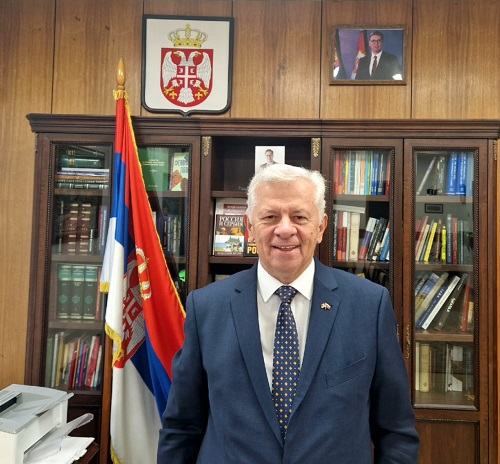 Ambassador Momcilo Babic, was born in Pec (province of Kosovo and Metohija - Serbia), studied in Belgrade, where he graduated from the Faculty of Medicine, and received his master's degree in Moscow as a World Health Organization fellow at the International Faculty of Healthcare. He received his doctorate in Belgrade at the Faculty of Medicine, where he specialized in social medicine and was elected researcher, and has been a professor of social medicine since 2000.
Ambassador Babic has performed numerous professional and social roles, including that of Director of development of the Clinical Center of Serbia, City Secretary for Health in the City Assembly of Belgrade, where he initiated the government project "Beograd-zdrav grad" (Belgrade - a healthy city). For ten years, he served as the Director of the Hospital Medical Centre "Bezanijska kosa", was an assistant to the Health Minister of the Republic of Serbia, and the Director of the National Health Insurance Fund of the Republic of Serbia. He was Council Chairman of the University of Belgrade.
He spent more than two years on study trips, especially in Russia and the USA, to leading world institutions, including Johns Hopkins University in Baltimore, the Centers for Disease Control and Prevention in Atlanta, the National Institutes of Health in Bethesda, the state of Maryland, and Georgetown University in Washington, D.C., the Royal Caroline Institute - Stockholm, the London School of Hygiene and Tropical Medicine, the Russian Medical Academy of Continuous Professional Education and the "Semashko" Institute in Moscow. He established cooperation with Rush University Medical College in Chicago, where for many years doctors from hospitals under his management would go to receive additional training. He established professional links with very influential Russian medical academics, such as Dr Yevgeniy Chazov and Dr Leo Bokeria, who visited the hospital where he was director.
He is the author of more than 250 scientific and professional articles published in international and domestic journals and congresses, as well as 24 professional and scientific books. In 2002, he founded and became the first president of the Medical Academic Forum, an association of academic doctors in Belgrade.
In 2012, he was awarded the title of "The Best European," by the First European House from Belgrade for his Health Development Program in Serbia. In 2021, the organization "Servare et mannere" awarded him the Peace Medal for his contribution to strengthening peace and cooperation between peoples.
He was the Serbian Ambassador to The Slovak Republic from 2018. to 2022. He speaks English, Russian, and Slovak fluently. He has been painting for decades and mostly dedicates his works to hospitals and humanitarian purposes.
He is married to his wife Mariana and is the father of two children: Uros and Iva.